On March 8, 2022, International Women's Day will be commemorated with the theme "Gender equality today for a sustainable tomorrow." "Join UN Women and the rest of the world in celebrating International Women's Day on March 8th under the theme "Gender equality now for a sustainable tomorrow," and urge for climate action led by women, according to the UN.
1. Significance of women's day
People recognize that International Women's Day isn't tied to a specific nation, group, or organization.
This day honors all women all around the world. It is critical that we acknowledge, celebrate, and promote awareness of women's achievements.
There is a need for the increased significance of women's day awareness through meaningful narratives, resources, and activities to address gender bias and discrimination.
Read More- Flutter Marks the Beginning of Gen-Next Application Development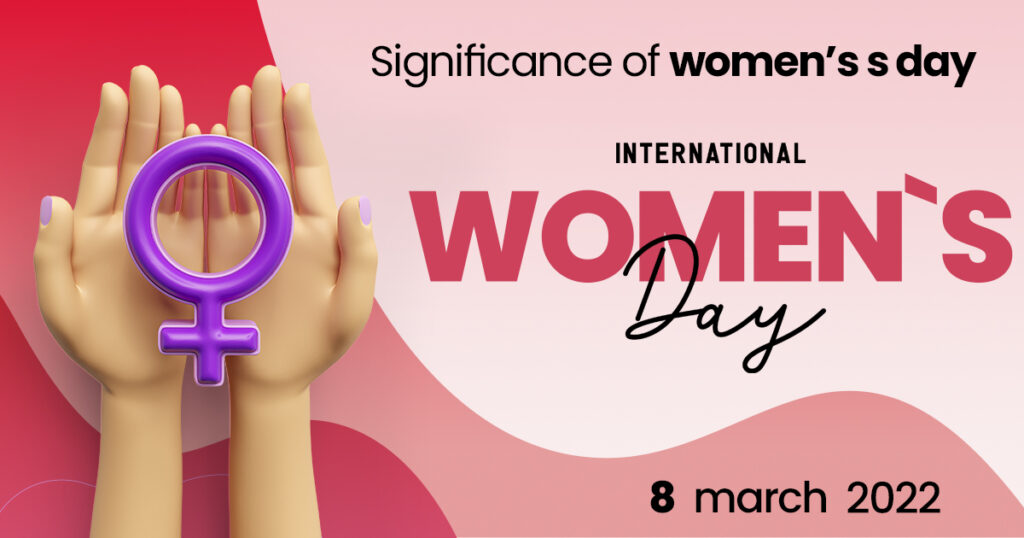 2. History of International women's day
The United Nations declared International Women's Day for the first time in 1977.
However, one of the earliest appeals for women's rights dates back to 1848, when Americans Elizabeth Cady Stanton and Lucretia Mott convened the first women's rights assembly in the United States at an anti-slavery convention.
On February 28, 1909, the inaugural Women's Day was observed in the United States. Clara Zetkin, the leader of the Women's Office of the Social Democratic Party in Germany, presented the concept there.
International Women's Day was originally observed on March 19, 1911, by Austria, Denmark, Germany, and Switzerland. During the years 1913 and 1914, Russian women honored their first Women's Day on February 23. The date of International Women's Day was later set as March 8th.
Read Also- Landing Page Guide for 2022 You Need to Know
3. Ways to Celebrate Women's day 2022
On the occasion of women's day, we have various unique qualities as discussed below. We are sure after reading this you can pick these ideas definitely.
So, let's start:
3.1 Hang out with your friends over Zoom
If you're traveling for work or the covid regulations prevent your female gang from physically gathering in one spot, don't worry, we've got you covered. Get a drink of wine and call your buddies over Zoom to wrap up the day's work quickly. Spend the day talking or reminiscing about the good times you had together in the past.
3.2 Go out shopping with your girls
No other type of therapy is as effective as retail therapy. Plan a fun shopping date with your girlfriends and go shopping – window shop, play fashion designer for your partner, change your wardrobe, haggle at flea markets, and so on.
3.3 Plan a private meal at your house
Dress up, prepare all of your favorites, put on glasses of wine, and meet around the dinner table with your lady party to gab, tell stories, gossip, and take walks back in time.
3.4 Pamper Yourself
This is the day you should be most proud of yourself. Take a day off work, visit a spa, treat yourself to a luxurious supper or a manicure – whatever it takes to make you feel more special because you deserve it.
3.5 How Can I Celebrate International Women's Day at Work?
One thing your organization may do to promote gender balance is to mark International Women's Day in the workplace.
Furthermore, celebrating International Women's Day encourages women to participate in fields and companies that are dominated by males.
When you consider that only 15% of employees in the Technical job market are female, this is important.
4. Types of activities on international women's day
Your efforts do not have to be costly. Even simple actions can help raise awareness. The following are some of our ideas:
Decorate the building
Evolove everyone
Get people thinking
Ask staff to ask
Invite a female speaker to give a talk
Run a class
Fundraise for a women's charity
5. FAQ's
1. When is international women's day observed?
International Women's Day is observed on March 8 every year.
2. Why is international women's day observed on 8 march?
Every year on March 8, International Women's Day is observed to promote gender equality and to encourage people to create a more equal society. This year's theme, according to the United Nations, is "Gender equality today for a sustainable tomorrow."
3. What is the theme of International Women's day?
The theme for International Women's Day 2022 is "Gender equality today for a sustainable tomorrow".
4. Why is International Women's Day celebrated?
International Women's Day is observed to raise awareness about gender equality and to convey the message that no vision can be realized without the participation of half of the world's population.
5. When was the first national women's day observed?
The first national women's day was observed in the US on February 28, 1909.
6. When is national women's day celebrated in India?
India celebrates national women's day on February 13 to commemorate the birth anniversary of Sarojini Naidu.